Engineering Drawing

The engineering drawing is the basement for your contract in regard to technological, just as economic aspects. It's the starting point for the production and the bid proposal management.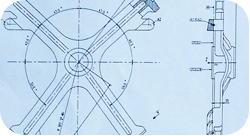 On the basis we will find the perfect foundry for you out of our partner database.
All our producers are accredited professionals and longtime business partners, with who the MKI has had related for years in order to ensure the best conditions in matters of quality, service and reliability.