Modeling

The construction of the model, the basement of the production, requires longterm experiences, substantiated know-how and high-class expertises in matters of casting.

Various different materials -e. g. plastics, brass, steel, which offer miscellaneous properties. These specific characteristics have to be assigned in detail to the attributes of the manufacture.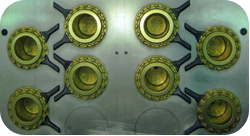 The MKI once again works hand in hand with the technical- and material engineers and as matters of course, with you, the costumer.

Perfect quality is ranked first here.