Surface treatment

The right surface choice does not only influence the optical appearance of your product. Correctly chosen, the finish delivers an important protective layer to your product. This is a leading point for professionals.

Parameters like corrosion, abrasion and liquids can damage your products lifetime.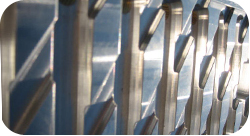 These sources of problem can easily be prevented by correct and precise surface treatment.

Equal to every other part of the production chain, the MKI once again aims for the very best quality in order to achieve the costumers, your satisfaction.
When choosing the correct refinement, there are elements which have to be examined, for example future requirements to the surface, geometry and production volume.
Bulk cargo, drums, suspended – the MKI knows the answer for your needs.